Corporate Services & Event Travel
Corporate Travel
Established in 1980, our team at AMb Travel have over three decades of experience in providing high quality business travel for our corporate clients.
Understanding the needs of our blue chip customers and having robust procedures in place means that we are the first choice for many of the UK's most recognisable names, who use our consolidated services from chauffeur cars to large coaches.
Our dedicated account managers are responsible for ensuring compliance with your duty of care and corporate and social responsibility policies, and our low emission vehicles and CO2 reporting tools will help you demonstrate your commitment to the environment.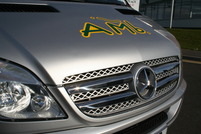 When you need luxury business travel or corporate travel in Kent, Sussex, Surrey, London or anywhere in the UK, you can rely on us.
We'll provide a single point of contact, manage the planning and delivery of your travel and provide you with a single invoice, itemised to give you full budgetary control.
From staff shuttle-bus services to multi lingual tour guides, at AMb Travel we have the experience and resources to make every booking a success.
Event Travel
AMb Travel have vast experience when it comes to event travel.
Conferences, Christmas parties, summer fun days and promotional events, over the years we have successfully managed the travel for thousands of people.
Our services include the planning and delivery of a complete travel plan. You provide us with your delegate information, or if you prefer we can handle delegate bookings for you using our online booking tools.
Using our own fleet supplemented by quality assured partners we have access to over 1000 coaches, cars and vehicles of all sizes, ensuring that we can provide the most appropriate vehicles for your needs. As operators we understand driver's hours restrictions and the practicalities of road transport, meaning we can make expert decisions and react quickly to any changes.
And as you would expect from a 24 hour operation we can also provide meet and greeters, ground handlers and event travel managers who will join you on site. Our team become your team if you wish and can wear your uniform or branding and will support you discretely and professionally around the clock.
In short we can take care of some or all of your event travel requirements, from booking, signage, vehicle branding, travel help desks, car, minibus and coach transport and even novelty and unusual vehicles.
And to really look after your VIP's we offer chauffeur cars and corporate hospitality coaches. Stylish and luxurious with drivers that really know how to look after your guests, you can be sure that with AMb Travel your event transport really is in safe hands.