Guide to Booking Coaches
Some thoughts about booking coaches
It seems pretty straightforward booking a coach, but not all operators are the same!
So here are a few things to consider when you are looking to make a booking.
Avoid Brokers
Try to go direct to the minibus or coach hire company. There are plenty of brokers, who look like they are a coach company, but who are simply a middle man - they will normally have pictures of vehicles WITHOUT sign writing. These companies add cost to your booking and as they do not operate vehicles themselves, may not be in a position to help if there is a change to your plans or a vehicle breakdown.
At AMb Travel we work with other, quality assured operators, but as we run our own vehicles we understand what can legally be done.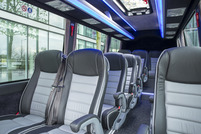 Check what you are getting
All AMb Travel vehicles are top of the range Mercedes products, however minibuses and coaches from some other companies will not be like-for-like! Ask how old the vehicle is that you are hiring and what facilities there are on board.
Ask for pictures of their fleet or of the vehicle you will be hiring.
All of our vehicles are maintained in house by our engineering team, and are subject to a full safety inspection, similar to an MOT every six weeks.
Your choice of company reflects on you!
Ask for pictures of vehicles to be e-mailed to you so that you can be sure the vehicles are clean and undamaged. Quality operators will have a recognisable fleet livery with the company name displayed prominently, and smart uniformed drivers. At AMb Travel we understand that we very often transport your customers and know that the first impression counts!
Compare like for like
A good coach company will be more than happy to discuss your requirements and provide a free quote, but be sure you are comparing like for like. Not everyone has the same standards, but at AMb Travel every vehicle is cleaned inside and out before every hire, and we have a team of professional drivers who are proud to represent us, and you!
Give us a call and we'll talk you through the ways we can help!