AMb Travel awarded CoachMarque accreditation
Posted on 08/10/2013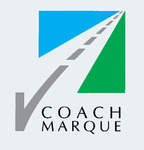 Following a stringent auditing process, repeated every 3 years, our policies, processes and vehicles were found to be of the highest quality required by the accreditation. Just 50 coach operators in the UK hold the accreditation.
Contracting coaches presents organisations large and small with challenges. Without a dedicated resource to manage the due diligence, there is a potential that your passengers could travel with unlicensed operators, uninsured vehicles or simply be carried with insufficient liability cover to meet your requirements.
By contracting a CoachMarque coach company, you can rest assured that your colleagues will be transported on a vehicle maintained to the very highest of quality standards. Training, contingency, compliance and environmental performance are all monitored, ensuring the very best in operational excellence is delivered every time.
To learn more please click here.
News Archive